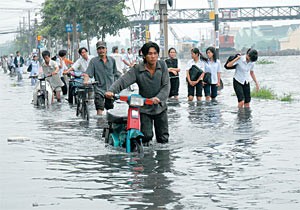 Ho Chi Minh City residents wade through the flooded roads in District 8 on Sunday evening
Floodwater is on the increase in the Mekong Delta due to the combination of the rising water in the upper parts of the Mekong River and repeated high tides, said the forecasters on Monday.
The water in the Mekong Delta reached peak levels on Monday. In Can Tho city, the water has risen to the third alerting level submerging some of the villages and ruining one hectare of cropland. Some main roads in the city remained flooded for hours.
Initial counts show that the floods have already claimed 21 villagers in the Mekong Delta provinces of Dong Thap and An Giang. In the nearby city of Can Tho 14 were killed and injured, five of whom were reportedly children.
Meanwhile, people in Ho Chi Minh City saw the high tide of 1.43 meter on Sunday evening, which has inundated many districts along the Sai Gon River. The submerged roadways have disrupted the transportation of city dwellers and 100 hectares of farmland in the vicinity have been destroyed.