The Hanoi People's Committee has decided in a meeting yesterday, to hand over the treatment of the Sword Lake turtle to highly qualified veterinarians and aquatic experts on a priority basis.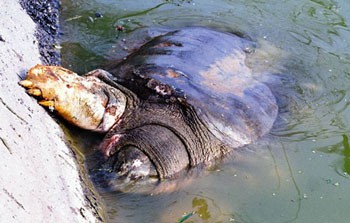 The turtle seen rising up to the water surface (Photo: SGGP)
Nguyen The Thao, the city People's Committee chairman has insisted that curing the turtle's injuries was of greater and more urgent priority than the cleaning up project of the lake. The committee has placed relevant authorities at work to seek ways to care for and heal the turtle.
At the meeting, Mr.Thao instructed authorities to immediately clean up and lay sand surrounding the area around the Turtle Tower so that the turtle can freely expose himself to the sun.
The difficulty now lies in finding a method to transport the turtle into the pool specially designed for the turtle's treatment. One possibility is that the turtle could be brought up by using net traps in areas that the turtle usually inhabits when surfacing above the water.
Associate Professor Ha Dinh Duc, a researcher on Sword Lake turtles, said that a board of veterinarians, aquatic experts and biologists were at hand to treat any scratches and lacerations on the turtle.
Yesterday morning, hundreds of people flocked to see the turtle as he rose to the water surface at least six times, causing a traffic gridlock surrounding the area around the Sword Lake.

Related articles:
Injured turtle to be treated in Turtle Tower
Seminar on methods to cure turtle wounds
Wound treatment of legendary turtle to be found out before Feb 25