Unabated heavy rains for the last couple of days have triggered a historic flooding in the north central region, stranding many areas and causing at least 14 dead, five missing and 14 injured.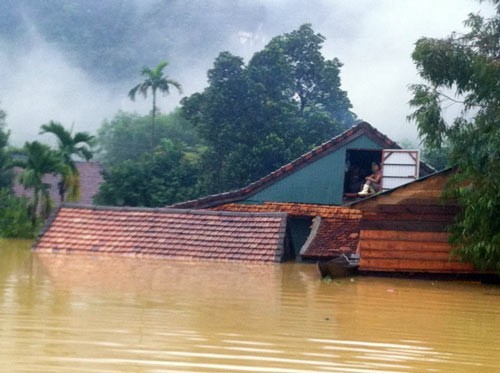 Houses lies under floodwaters in Quang Binh province on October 15 (Photo: SGGP)
The hardest hit province has been Quang Binh where nine were reported dead, three missing and 12 injured this morning.
Thirty fishing boats drifted out to sea from their moorings. Of these, four were sunk off the province.
Over 71,000 houses were inundated under floodwaters and 59 roofless. Traffic was partitioned in many areas and hundreds of communes were marooned, said Nguyen Ngoc Phung, chief of the province Steering Board on Natural Disaster Prevention's secretariat.

Quang Trach district has evacuated 78 citizens to buildings while Bo Trach has removed 1,500 households to safety and Tuyen Hoa evacuated 278 households.
The flooding has damaged hundreds of hectares of crop plants in the province, drenched thousands of tons of food and swept away thousands of poultry and other domestic animals.
Landslides have eroded river banks, irrigation canals and railways. National Highway 1A has still been flooded in Quang Ninh district. Many areas have suffered power blackout.
Vietnam Railways yesterday announced that four trains were stranded at My Duc, Dong Hoi and Le Son stations with 366 passengers on board.
Local authorities and army forces have used boats to transport necessary items for the passengers and transport them to other stations so that they could continue traveling south.
The province People's Committee said that their financial resource was very limited because of heavy damage by Formosa environmental disaster. So it proposed the central government to provide emergency food aid to citizens and financial assistance for the province to repair flooding consequences.
Highway 1A lies under floodwaters in Quang Ninh district, Quang Binh on October 15 (Photo: SGGP)
In the neighboring province of Quang Tri, Vinh Linh district reported nearly thousand of houses submerged under floodwaters, forcing evacuation of hundreds of citizens from low-lying areas.
Yesterday afternoon, over 300 passengers were stranded at Dong Ha railway station. Local authorities have provided them food and water while waiting for the floodwaters to recede.
Nghe An province saw a secondary school student swept away while she was on the way to go home. Her dead body was found on the same day.
Floodwaters also submerged many areas in Vinh city and other districts, destroyed thousands of hectares of rice, corn and vegetable crops and disrupted traffic in Highway 48E.
Thua Thien-Hue province reported one missing and two heavily injured.
The Natural Disaster Prevention Steering Board in Ha Tinh province said that floodwaters killed two and caused one missing, inundated 93 communes with 24,158 households, eroded and damaged a slew of roads and other traffic works.
Local authorities in the north central region have mobilized all resources and means they have to rescue citizens in affected areas and remedy consequences in the aftermath of the flooding.
Nghe Tinh Railway Management Company, a subsidiary of Vietnam Railways, has mobilized 500 workers to repair damaged rail sections.
 
Landslide has caused traffic congestion at 21 spots of the railway from Nghe An to Quang Binh province.
By October 15, the railway industry has removed 1,000 passengers from flooded areas to safety.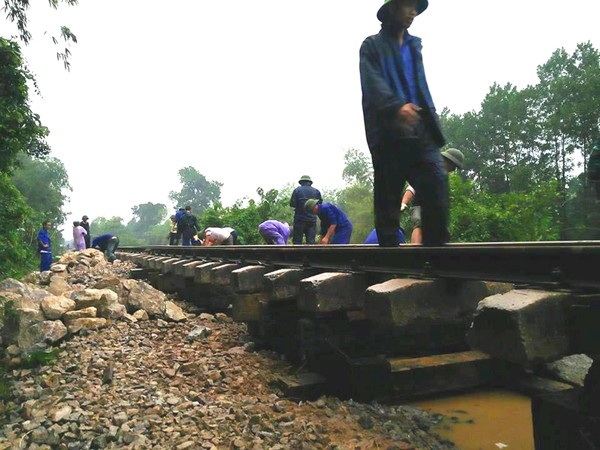 Workers repair a damaged rail stretch in Quang Binh on October 15 (Photo: SGGP)

Related article: