Steering Committee of the voluntary blood donation movement of Ho Chi Minh City held a ceremony yesterday to honor 395 individuals, who have made outstanding contributions and donated blood over 20 times.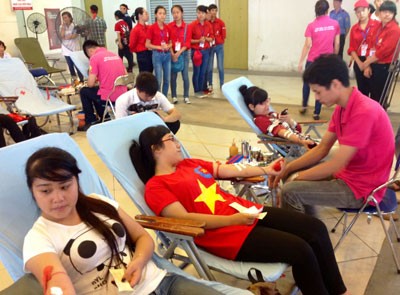 (Photo: SGGP)
Last year, Ho Chi Minh City received over 241, 000 units of blood. Thus, Ho Chi Minh City is a leading local in blood donation activities, reported Director of HCMC Humanity Blood Donation Center Bui Van Them.
The center also called on frequent blood donators, who are considered live blood banks, to directly save 20 patients' life in hospitals of Tu Du, Children's Hospital no.1, Gia Dinh and HCMC Heart Institute.
Blood donation is not only a meaningful action for saving patient's life but also national solidarity expression of the Vietnamese people.