The Hoa (ethnic Chinese) community in Ho Chi Minh City has voiced their support for the Party and State's policies towards Hoa people at a meeting with the city's top officials on June 6.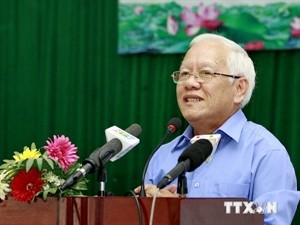 Le Hoang Quan, Chairman of the municipal People's Committee, speaks at the meeting (Photo: VNA
They also affirmed their full backing of the peaceful protesting measures Vietnam has been undertaken over the past time in response to China's illegal placement of its rig in Vietnam's exclusive economic zone and continental shelf.
Ly Kim Mai, a retiree in District 5 said Hoa people living in Ho Chi Minh City are strongly against China's wrong acts, adding that the community is aware that the Vietnamese Party and State are consistent in the policy of building the national unity bloc for peace and stability.
Speaking on behalf of the Hoa business community in the city, Director General of Bitas company Do Long said the disturbances in the recent past also caused concern to some Hoa businesspeople, but the sympathy and encouragement offered by local authorities has helped them regain peace of mind.
He said as an ethnic Chinese born and growing up in Vietnam, he has deep feelings for the country just like other people in Vietnam be they of any ethnic groups. "Like other children of the Vietnamese Motherland, we want to have peace and a stable life," Long said.
Sharing the sincere feelings of the Hoa people, Le Hoang Quan, Chairman of the municipal People's Committee stressed the Party and State's policy that affirms the Hoa are Vietnamese citizens and a part of the community of ethnic groups in the country.
Quan praised the Hoa community's great contributions to the city's formation and development, noting that seven Hoa mothers in the city have been recognised as Heroic Vietnamese Mothers, while sons and daughters of thousands of Hoa families have sacrificed their life for the country.
Discussing the current situation in the East Sea, Quan said independence, sovereignty and territorial integrity are sacred and inviolable, which Vietnamese people are determined to safeguard. He called on the Hoa people to stay calm and trust the Party and State's policies, adding that they should express their patriotism through hard working, respecting the law and fulfilling a citizen's duty