Mien Dong and Mien Tay Bus Stations have been overcrowded with holidaymakers in the five-day holiday on the occasion of the Reunification Day and May Day, April 30 and May 1.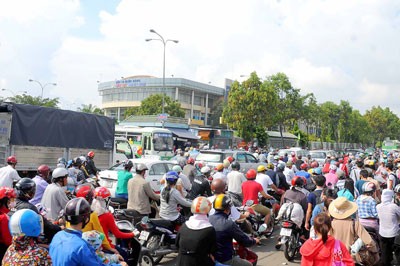 Traffic jam in front of Mien Dong Bus Station in Dinh Bo Linh Street, Binh Thanh District, HCMC (Photo: SGGP)
Passengers flocked to the Mien Dong Bus Station causing overloaded condition, said Nguyen Ngoc Thua, the station director.
The station was only able to transport all passengers by midnight on April 29 and had to supplement other 33 buses to meet increasing demand on the next day.
Traffic jam caused several buses unable to pick up passengers on schedule. Several took 2-3 hours instead of one hour as normal to leave from the city center.
A total of 1,300 buses departed from the station to transport 36,000 passengers by the end of April 30, when more than 40 buses were supplemented to meet demand.
Similar condition also occurred in the Mien Tay Bus Station. Passengers stood in long lines to get tickets to Mekong Delta provinces. Counters selling tickets to Long An, Tien Giang, Ben Tre and Tra Vinh were most overcrowded.
People waited for buses outside the station along Kinh Duong Vuong Street. The station added an extra of 67 buses to lift the blockade due to the mounting passengers.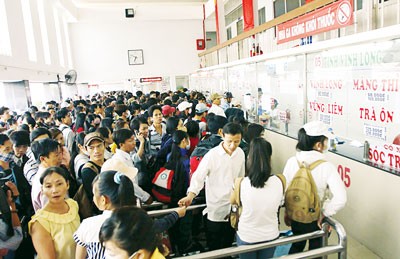 Passengers queue up to buy tickets in Mien Tay Bus Station on April 30 (Photo: SGGP)
Several streets, tourist destinations and amusement parks were packed with holidaymakers in HCMC. Heavy traffic gridlock occured along Hanoi Highway near Suoi Tien Cultural Park with kilometer-long lines of cars and motorbikes.
Cat Lai Ferry was congested for five consecutive hours beginning 7a.m on April 30. The Ferry management board had to mobilize another six ferries but was still short to meet demand in the morning.
Binh Khanh Ferry was overloaded with thousands of motorcycles and cars which had to wait for three hours in Can Gio District. The number of passengers through the ferry increased 10 percent compared to the same period last year.
In related news, Hanoi entrance spots were jam-packed with high volume of vehicles streaming out from the city center amidst a heavy rain. The worst blockade was on National Highway 1A to the south.
Large bus stations were overloaded on April 30, when people jostled to get tickets and waited for buses for several hours. Many lined up for 2-3 hours on routes to the neighboring provinces of Nam Dinh, Thai Binh, Ninh Binh and Thanh Hoa.