Hospitals that are under the management of the Ministry of Health have delayed applying the revised health service fees till May 2012, as so far only 20 per cent of the hospitals have sent in their proposal to the ministry, said a health ministry official.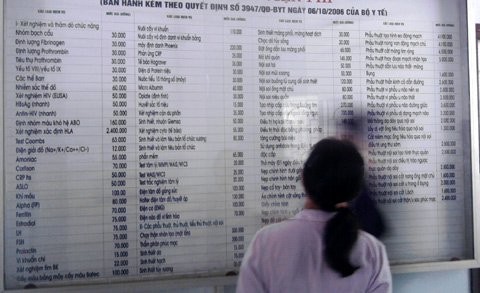 A patient looking at the list of health service price fee
Nguyen Nam Lien, deputy head of the Planning and Finance Department of the ministry, made the statement on April 16.
Referring to the revised health service fees, which should have been made effective from April 15 as scheduled, he said that there was a delay as necessary legal procedures were not yet complete.
Under the Law for Medical Examination and Treatment, which took effect on January 1, 2011, municipal and provincial people's committees are authorised to issue new price fees for health services that are applied locally, while the ministry must issue those applicable for hospitals at the central level.
At present, the people's committees are building their local list of new prices and will have to present them at the people's council meetings   scheduled in June for approval.
Meanwhile, central hospitals are preparing their proposed lists to be submitted to the ministry for consideration.
However, the ministry has so far received only a few proposals, which has caused a delay in applying the new revised health service fees.