The Ministry of Natural Resources and Environment will launch 24-hour hotlines to receive information related to illegal mineral mining, said Deputy General Director of t he Vietnam General Department of Geology and Minerals Lai Hong Thanh.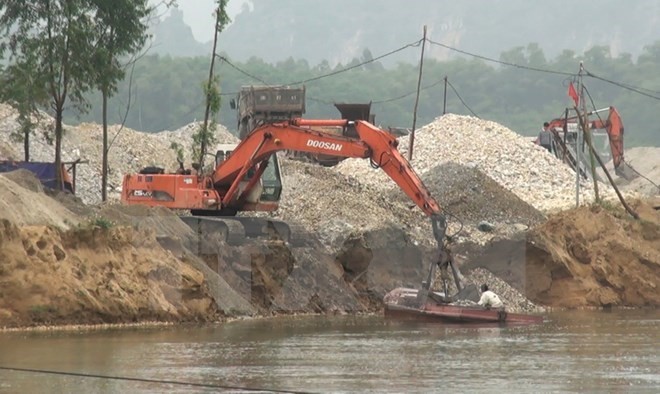 Illegal exploiting sand in Pho Day river in Tuyen Quang province (Source: VNA)
Policies protecting and honouring information suppliers will be devised , Thanh said, adding that the ministry has suggested the Ministry of Finance issues a circular guiding the building of a budget estimate for untapped mineral protection.
Over the recent time, localities nationwide have taken many measures to prevent unlawful mineral mining, lowering the number of localities recording the situation occurring to only 40 in 2015 from 47 in 2012, and taking down the quantity of illegally exploited minerals to 10 from 27 categories, Thanh stressed.
However, he noted that illegal mineral mining activities still remain complicated at present.
He attributed the situation to lax management by local authorities for the activity, as well as unclosed and tardy coordination among localities in handling relevant violations.
Deprivation, low education and limited awareness of residents in several localities are also the reasons behind the situation, he said.
According to Thanh, the Government, ministries and sectors have issued documents guiding the enforcement of the amended Law on Minerals in 2010, serving as important legal foundations for State management in the field.
It is necessary to intensify campaigns to disseminate laws on minerals, and raise public awareness of the importance of protecting untapped minerals, especially in localities abundant in minerals.
Provincial-level people's committees should roll out plans to protect untapped minerals, and localities need to enhance links in managing minerals and take specific measures to prevent illegal mineral mining and improve the efficiency of the work.