Discussions on the revised Penal Code and a bill on judicial records topped the agenda at the first session of the National Assembly Standing Committee's 15th meeting that opened December 23rd.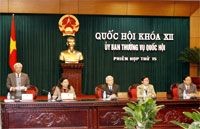 The first session of the National Assembly Standing Committee's 15th meeting opened yesterday in Hanoi (Photo: Ha Noi Moi)
Ms. Le Thi Thu Ba, chairwoman of the NA Justice Committee, said the NA should reconsider the use of capital punishment and the regulations on organized crime, speculative hoarding, tax evasion, and limitations for criminal prosecution.
The committee welcomed Ms Ba's recommendations but said other countries' experiences should be considered before amending the Criminal Procedure Code and the Penal Code.
It said capital punishment should continue for three offences: making and selling spurious foods, foodstuffs, and drugs; embezzlement; and bribery.
NA deputy chairman Huynh Ngoc Son, chairman of the Council of Ethnic Minorities Ksor Phuoc, and chairman of the Committee for National Defense and Security Le Quang Binh strongly opposed revocation of the death penalty for crimes like destruction of major defense and security facilities, sabotage of peace, staging aggressive wars, and fighting against humankind.
As for tax invasion, many deputies agreed that the threshold for this crime should be retained at VND50 million and not raised to VND150 million as stated in the bill. They also called for tougher penalties for the crime.
The Law Committee chairman Nguyen Van Thuan said death should not be awarded for some drug-related crimes.
Ms. Truong Thi Mai, Head of the Committee for Social Affairs agreed, saying this would ensure the laws remain humanitarian.
"The country may have 10,000 new drug addicts every year," she warned.
Discussing criminal records, delegates agreed past administrative punishment or disciplinary action should not be put in them as proposed in the bill.
They also agreed that those recognized as bankrupt by a court under the Law on Business Bankruptcy should be prohibited from setting up or managing businesses.