Amendments to laws governing personal income tax, VAT, and tax management will be passed by the National Assembly, which is scheduled to sit from May 20, the NA Standing Committee said.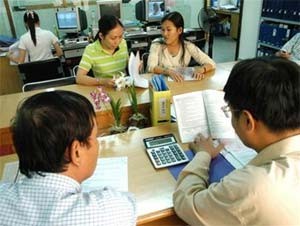 An official (R) at the Ho Chi Minh City Tax Department explains personal income tax provisions to a taxpayer. The National Assembly is set to pass amendments to this tax at its next session starting on May 20. (Tuoi Tre)
They were not on the agenda for this year but after considering the socioeconomic situation, the Committee decided to include them, NA Office chairman Tran Dinh Dan said.
The amended laws would be instrumental in preventing a recession and securing social security, he said.
The NA is also set to pass 12 other bills and debate six others.
Besides, deputies will consider an adjustment to economic growth and budget targets, issue of Government bonds, and tax breaks based on the Law on Personal Income Tax.
Mr Dan said they would hear a Government report on adjusting the financial mechanism for education and training by 2012 and pass a resolution.
"The mechanism, includes tuition fees, will play a decisive role in the development of education," he said.
Besides a general report on the project to develop bauxite mining in the Central Highlands, each deputy would get a detailed report on it for comments, he said.
The House will also discuss other important issues like food hygiene and safety and the relocation of people displaced by the Son La Hydropower Plant.
Reports from the NA Council of Ethnic Minorities and other NA committees will be presented at the session.
Opening, closing and question-answer sessions will be broadcast live on Vietnam Television.