HA NOI (VNS) — The Law on Housing needs to be amended due to shortcomings that have led to uncontrolled and unplanned housing developments, shortage of housing for low-income people and a surplus of high-end housing, the National Assembly deputies yesterday decided.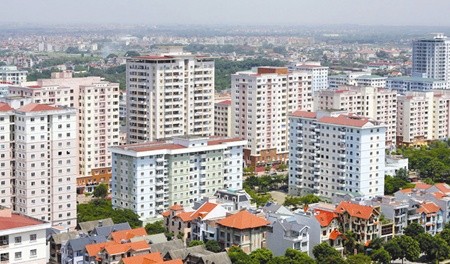 The My Dinh New Urban Area 1 and 2 Ha Noi. National Assembly deputies have said that the Law on Housing needs to be amended to address shortcomings that have led to haphazard growth, including a shortage of low-income housing and a surplus of high-end accommodations. — VNA/VNS Photo Huy Hung
They said the amended Law on Housing was not only necessary to protect people's rights to own homes, but to create favourable conditions for enterprises to develop sustainably.
Deputy Ho Thi Thuy from Vinh Phuc Province said the amended law set the criteria for housing policies for low-income people by creating favourable conditions for public staff, students or workers to have easier access to housing ownership.
She said the amended law had transparent and clear provisions and would help prevent corruption in the real-estate market.
Deputy Dinh Thi Mai Lan from Cao Bang Province said the law reflected the State's concern about vulnerable groups in society by giving them the chance to own a low-cost house.
Deputy Tran Ngoc Vinh from Hai Phong City said the amended law needed to tackle the issue of housing for public officials and public employees. He said currently the policy only benefited a certain number of people, while it should be able to handle the needs of a much wider group, including public employees living in remote and poor areas.
The deputies also approved a Law on Public Investment at the morning session.
Real-estate law
In the afternoon, deputies talked on an amended Law on Real Estate, saying that it should be amended to heighten State management over real estate market activities.
Many deputies agreed with the law's regulation allowing foreigners individuals and organisations and overseas Vietnamese to take part in real-estate trading, saying that this would not only create a competitive environment, but also jobs.
Deputy Phung Duc Tien from Ha Nam Province said the law should also have binding conditions to ensure State control over property management and territorial security.
Tuan suggested that foreign individuals and organisations not be allowed to do business in areas sensitive for national defence and that the regulations on approval of projects needed to be tightened.
Deputies also agreed that the amended Law allow property investors to rent or sell assets to be established in the future.
Regarding a regulation on a real-estate transaction floor, many deputies said this was not necessary and that investors could advertise or sell their products by any way they chose.
Earlier in the afternoon, deputies also approved a Law on Construction.