The first conference of the Asia-Pacific sub-committees of the Francophone Parliamentary Alliance (APF) opened in Hue City in central Viet Nam on March 23.
The two-day conference is discussing activities for the APF sub-committees in the Asia-Pacific region. It will elect and appoint officials for positions like the regional representative, female parliamentarians for APF, and secretaries.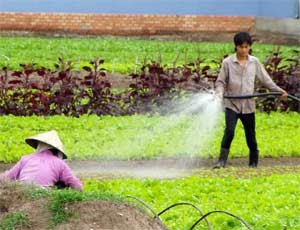 Farming vegetables is a way to reduce poverty in Viet Nam (Photo: Tuong Thuy)
The participants are also discussing laws needed for poverty reduction and ways to carry out investment laws. They will visit the Hue Beer Company and Nam Dong District's Thuong Lo Commune, which has made considerable achievements in poverty reduction.
The conference is chaired by Vietnamese National Assembly, and the delegates come from Cambodia, Laos, Viet Nam, Vanuatu, Europe and Africa.