Huế is proposing to set up a street of museums and exhibition centres to serve the cultural needs of locals and visitors to the former imperial capital city.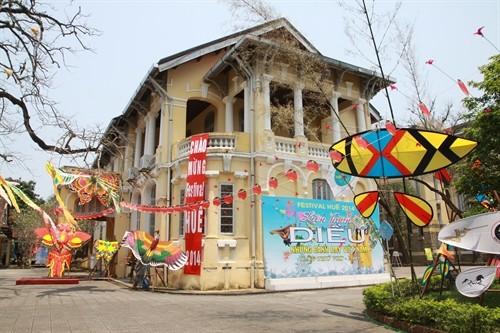 Colourful culture: Exhibition of kites at Huế Museum of Culture, which resides in a French colonial building. VNS Photo Trương Minh Hiếu
Phan Tiến Dũng, director of the localdepartment of culture, told a recent meeting of the province People's Council that the department had a plan to turn Lê Lợi Street into a museum road.
With the plan, the existing Museum of Culture will be rearranged and will get more Champa antiques, which were collected from around the province, to make the Huế Museum of Fine Arts.
The museum, which is sheltered within two unique French colonial buildings that are next to each other, would be one of the key museums of the proposed street, together with the Lê Bá Đảng Art Museum and the Liễu Quán Buddhist Centre.
Lê Bá Đảng Art Museum gathers prominent works of the late artist Lê Bá Đảng, who lived and worked in France most of his life. The museum resides in another beautiful French colonial building on the street.
In the recent years, Liễu Quán has been a busy place for Buddhist-related activities in the city. Almost all key Buddhist exhibitions take place at the centre.
The street was once full of French colonial buildings lying beside the poetic section of the local Hương (Perfume) River. Many of the original villas were replaced by new buildings, resulting in deep regrets among the locals and those people who love Huế around the country.
With the new plan, locals expect the remaining French colonial villas to be protected.
According to the department, the old colonial building that currently serves as the working place of the Huế Festival Centre, who organise the biennial cultural event and festivals at craft villages, will become a new museum for the sculptural works of late artist Điềm Phùng Thị.
Siting next to the centre is a great sculptural work depicting patriotic Phan Bội Châu, who pioneered a movement against French colonialism. Tens of newly-made sculptural works by international artists given to Huế will be displayed in a park nearby as part of the plan.
The department also wants to build a new museum for the history of local embroidery.
Running parallel to Nguyễn Đình Chiểu walking street, the proposed museum street has given hope for making Huế into an even more culturally profound destination to visit. However, locals expects the time between the plan on paper and practice on the ground to be very short.