A major fire broke out broke out at the Song Than Industrial Zone 1 in Di An District of Binh Duong Province yesterday, causing damage estimated to run into thousands of billions of dong.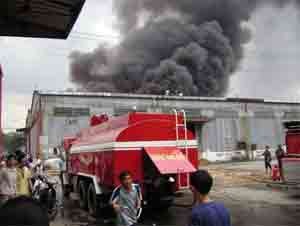 (Photo: Tuoi Tre Online)
The fire originated at about 3:30 p.m., in a wood workshop of the Vung Que Company and quickly spread to its nine other workshops and a 6,000 sq. meter raw material warehouse, completely destroying all of them.

The strong wind blew the fire into the warehouse of the Hai Thanh Company, burnt a 1,000 square meter workshop of the company into the ground and then licked at the neighboring properties of Dai Thanh Garment Co. and Hue Brewery Ltd..

115 firefighters of the Fire Prevention and Fighting Police of Binh Duong Province and of District 9, together with 16 fire trucks were pressed into service to fight the high-intensity fire but they could not control it until 7:30 p.m.

The fire broke out when hundreds of workers were working at the workshops, but luckily, all of them were able to escape unhurt.

The Vung Que Company is located on Street 10 in the Song Than Industrial Zone 1.