The country's labor policies helped generate jobs for about 11 million people in 2001-07, Mr. Nguyen Dai Dong, the head of the Employment Department of the Ministry of Labor, War Invalids and Social Affairs, told a seminar in Vung Tau Thursday.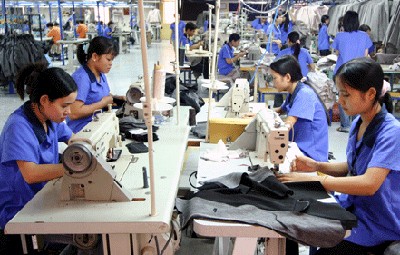 Vietnamese workers at a sewing factory
With the theme of "policies on employment and unemployment insurance", the seminar was organized by the Committee for Social Affairs of the National Assembly and the office of Friedrich Ebert Foundation in Viet Nam.
At the event, participants learned about the experiences of various countries in the field and reviewed the qualifications of Vietnamese workers.
Many delegates said that the skills of Vietnamese workers do not meet the requirements of the labor market. Training methods are out of date, time-consuming and of low quality.
It is notable that Vietnamese workers' endurance is only at a medium level, so it is hard for them to work in intensive working environments.
Moreover, nearly 70 percent of Vietnamese workers have yet to be trained, resulting in a serious lack of qualified workers in many industrial parks and export processing zones in such economic hubs as Ho Chi Minh City, Dong Nai and Binh Duong.
Therefore, the nation must speed up the development of human resources, strengthen educational socialization, and renovate training methods in order to improve the quality of the labor force.