Workers from central provinces on Monday began their journey trip to come back to Ho Chi Minh City after Tet holidays, making the lack of train and bus tickets.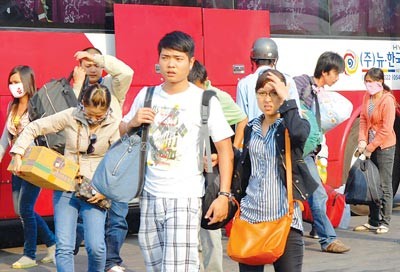 Passengers arrive at Eastern Bus Station on Feb. 7, 2011 (Photo: SGGP)
Passengers in the city's Western Bus Station increase by 30,000 people per day, three times more than normal days while passengers enter the Eastern Bus Station reach 40,000 per day.
Sai Gon Train Station also sees 20,000 passengers coming back to the city every day.
It is expected that numbers of passengers will rocket up in the coming days, making a largest immigration in the country on Tet holidays.
Aiming to serve passengers conveniently, bus companies and the country's rail way company have increased buses and trains during Tet travel season.
Some of private owned buses have been overloaded with 30-40 passengers in 15 seat buses, putting passengers in dangerous status.