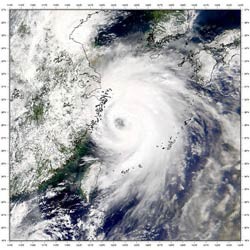 Typhoon Prapiroon (Photo: veimages.gsfc.nasa.gov)
639 people of 157 households in 78 villages of 15 communes in Ham Yen District, Tuyen Quang Province were evacuated to safety on August 5, including 470 people in 101 households living at risk of landslide, 184 in 44 households living at risk of flash flood, and 39 in 12 households facing other natural calamities.
The district authorities have granted US$200 to each household to help with their new settlement. In addition, the households were provided with material for building house and breeding facilities by the local people. Thanks to the timely evacuation, there was no loss of human in Ham Yen District when a brutal flood passed by.
After hitting Chinese mainland, typhoon Prapiroon weakened to tropical low pressure on August 4. The typhoon brought rains with low rainfall to northern Viet Nam. However, heavy rains were predicted to appear in border regions in the north on August 5, according to the Central Hydrometeorology Center.
The Central Committee for Flood and Storm Control (CCFSC) and National Committee for Rescue and Search sent an urgent message requiring relevant agencies in Vietnamese provinces of Lao Cai, Ha Giang, Tuyen Quang, Cao Bang, Bac Can, Lang Son and Quang Ninh to investigate the areas where people live near streams, rivers, as well as the areas in danger of flash floods and landslides. They are also required to inform local residents to watch for heavy rains which could cause flash floods and landslides, and adopt necessary measures to protect reservoirs.
Twenty vehicles and 5,000 soldiers have been deployed by the Ministry of Defense, ready for the rescuing and searching work.