Hundreds of families in Nam Tra My District in the central province of Quang Nam are suffering from hunger and cold after recent floods and landslides left them cut off from the outside.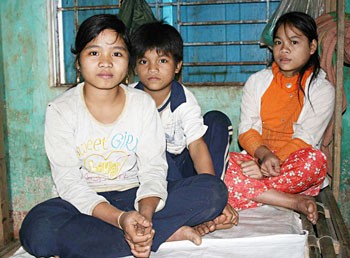 Students of Tra Van - Tra Vinh School are suffering from hunger and cold. (Photo:SGGP)
The district's seven communes have poverty rates of over 60 per cent.
It now takes at least four hours across forests and icy streams to reach these communes by foot. More than 20 bridges were swept away by the floods and it could take up to two months to clear the roads.
Over 200 students and teachers at a residential school in Tra Van and Tra Vinh communes are facing starvation and cold weather. Students go to school barefoot and without warm clothing in the piercing cold.
"Roads in Tra Mai, Tra Van and Tra Vinh have been damaged by landslides since November 15. More than one ton of rice provided by the district cannot be carried to the school and students cannot go home either," teacher Le Cong Vinh said.
"The school has just a little bit of rice left."
Ca Dong ethnic minority families in Tra Van and Tra Vinh are also suffering from hunger and cold. "This year the crop has been poor. We will be out of rice within a few days," Tra Van farmer Ho Van Dinh said.
Nguyen Van Dien, deputy chairman of the Nam Tra My People's Committee, said, "The seven communes of Tra Linh, Tra Cang, Tra Nam, Tra Don, Tra Van, Tra Vinh, and Tra Leng have been marooned by the floods last month.
"The communication system has been interrupted. Phones are out and fiber optic cables broken. We cannot transport more than 50 tons of rice to these places."
Dinh Van Thu, chairman of the Quang Nam People's Committee, said a request for VND15 billion (US$880,000) and 1,500 tons of rice to provide relief to people in remote areas has been made to the Government.