The two-day political training course held by the Department of Home Affairs on "Socio-economic development in the international economic integration period," started Wednesday in Hanoi.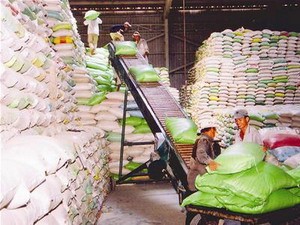 At a rice ware house in HCM city
The class is intended for chairmen and deputy chairmen of the people's committees and people's councils in the North.
The class is aimed at providing local leaders necessary information to help them overcome difficulties to fulfill their duties.
On the first day of the class, Prime Minister Nguyen Tan Dung spent two hours talking with the local leaders, during which he urged them to direct local agencies to take strong measures to stabilize the economy, maintain the economic growth and strengthen the social security.
In the rest of the year, local authorities must implement key tasks set forth at the regular governmental meeting in July 2008, with the top priority now being to restrain the inflation, said the prime minister.
To this end, local authorities must speed up production and trade, boost exports, and prepare enough capital for economic activities. The local governments must also better carry out the disbursement of capital from various sources for investment projects, Mr. Dung said.
He urged local authorities to take tighten control over consumer prices; fight speculation and smuggling; and keep prices of electricity, clean water, coal, and bus fares stable until the end of the year.
At the same time, local governments must take the steps necessary to maintain social security and prevent hunger, Mr. Dung stressed.