Construction of hydropower dams in the Mekong River may cause irreparable damage to ecosystems and push 100,000 people in poverty, said Ame Trandem from the International Rivers Network.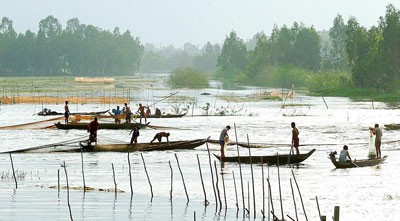 Fishing trade on Hau River in the Mekong Delta (Photo: SGGP)
The issue has raised concerns from several organizations and individuals because the river runs through six nations including China, Myanmar, Thailand, Laos, Cambodia, and Vietnam.
The river suffered heavy damages from recent economic developments and population booms. Several hydropower dams were built on its main tributaries in China. This has affected the flow of the lower reaches of the river.
Other projects have continued to be proposed on the Mekong River making it an environmental catastrophe.
The dams may cause irreparable damage to the ecosystem of the river and threaten the livelihood of millions of people who are dependant on the river's resources, according to Mekong River Commission in October 2010.
Construction of 12 hydropower plants may bring Laos about US$2.6 billion per year. The country will enjoy only 26-31 percent of the revenue in the first 25 years while these plants operate in Build-Operate-Transfer form.
It will also displace 106,000 people and affect two million others.
China has built four dams and now continues to construct an additional four in the upper reaches of the river. If the country builds another four dams in the lower reaches, the Mekong River's mainstream will have a total of 12 out of 20 dams.
Representatives from China said their dams will reduce flooding and ease drought in lower areas during the Mekong River Commission. They refused to accept any negative reports of the impacts of damming the river.
The dams have actually worsened flooding in Thailand and Laos and prevented vital nutrients like alluvium from reaching delta areas.
The lower-reach areas will suffer the worst from earthquakes and dam breaches. The benefit of hydroelectricity will not suffice for environmental damages.
Laos can develop hydro electricity on the river tributaries to meet economic development demand, which will not cause much environment impact.
Vietnam will conduct a study on the impact of building hydropower dams to the Mekong Delta. The Mekong River Commission will continue to curate issues of importance when damming the river.