The construction of the Drang Phok Hydropower Plant on the Srepok River in Buon Don District in the central highland province of Dak Lak will certainly have a negative impact on the Yok Don National Park, a lush forested area and home to a diverse species of flora and fauna.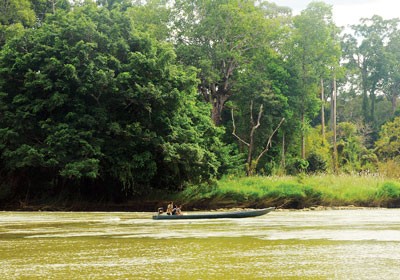 This thick forest with many rare and priceless trees will be flooded when the Drang Phok Hydropower Plant is built (Photo: SGGP)
In 2009, the province permitted the New Technology Application & Construction Investment Corporation (TECCO) to build the Drang Phok Hydropower Plant in Yok Don National Park.
The 28MW Hydropower Plant would need to clear 60 hectares of the forest in the national park. About 50 hectares would be used to build the hydropower plant while the remaining ten hectares would serve as temporary base during the construction phase.
In August of 2009, the Government permitted TECCO to build the plant in the national park area in accordance with a proposal from the Ministry of Agriculture and Rural Development and the provincial People's Committee.
At present, the investor is conducting an environment impact report of the project to submit to the Ministry of Natural Resources and Environment for approval.
Tran Van Thanh, acting head of the Yok Don National Park, said that if the Drang Phok Hydropower Plant is built then management and protection of the national park will be affected.
 
The plant's reservoir will create conditions for lumberjacks to transport timber from the national park and dynamite explosions during the construction of the plant will cause environmental pollution and drive wild animals away.
The Hydropower Plant will block the present current of the Srepok River and affect the living environment of aquatic species here, he said.
According to an investigation by the Dak Lak Agriculture-Forestry Program, Survey and Design Center in 2010, 47 out of 60 hectares of forest--where the Hydropower Plant is scheduled to be built--is a poor and scant forest area under the protection of Yok Don National Park.
On December 6, Saigon Giai Phong reporters toured the area where the plant is scheduled to be built and were overawed by the lush dense forest and a huge variety of timber species and priceless ancient tall trees.
Along the Srepok River flourishes a diverse variety of flora and fauna, and the river is home to several aquatic and rare fish species like the Hemibagrus fish, which is a catfish species.
The 115,000 hectare Yok Don National Park is the largest national park in Vietnam.
Associate Professor and Dr. Bao Huy from Tay Nguyen University said that the Yok Don National Park has a diverse ecosystem and plays an important role in the sustainable development of the Central Highlands. If the Drang Phok Hydropower Plant project is allowed to complete, the national park will certainly face destruction.