At a seminar held in Cat Tien National Park Sunday, environmental experts said they felt that investors of the two Dong Nai hydropower projects must reconsider their impact on plants, ecology and bio-diversity of the region.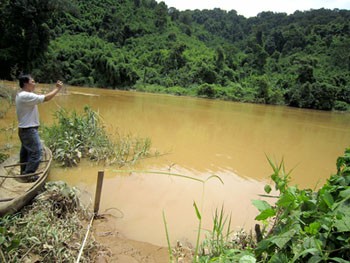 Rare flora and fauna will face extinction once the Dong Nai hydropower plants are constructed (Photo: SGGP)
According to Le Anh Tuan from Can Tho University, environmental reports made by Duc Long Gia Lai Group, investor of the projects, have skipped out and not rightly estimated the effects the project will have on the wild life and bio-diversity of the region.
The two Dong Nai hydropower plants with total capacity of MW241 are expected to cost VND6.5 trillion (US$309 million).
Scientists and environmental experts, surveying the Cat Tien National Park on August 6, said that the hydropower plants would inundate 136 hectares of the park, located in the three provinces of Dong Nai, Lam Dong and Binh Phuoc.
The region is home to many plants and herb species which have been listed in the Red Book of the International Union for Conservation of Nature.
Hoang Van Thong, chief inspector from the Department of Natural Resources and Environment says that with 19 hydropower plants already existing along the river valley, the quantity and quality of the Dong Nai River water has deteriorated.
Though the investors assure that the project would not affect the Cat Tien National Park, the park management board has presented a list of adverse implications that the plants will have in the region.
Tran Van Thanh, the park's director is concerned that construction of the hydropower plants might eliminate few rhino species that are rare and only found in Vietnam and Indonesia.
Hydropower plants would destroy the living habitat of this rare animal that faces inevitable extinction, Thanh said.