The Korean actress, Han Hye Jin, who is famous for her TV series 'The Legend of Three Han', had a special trip to Vietnam to promote and strengthen the relationship between South Korea and Vietnam. SGGP caught up with her to discuss Vietnam, fans and work.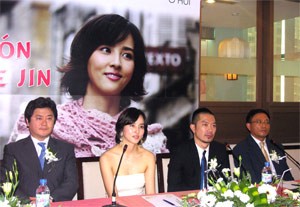 Hye Jin feels comfortable in front of the press (Photo: Truong Son)

What is your first impression of Vietnam?


 
First of all, I want to thank all of you for welcoming me. I feel so happy when I am here, especially with the mission to help tighten the relationship between Vietnam and South Korea. When the door of airplane opened, I really enjoyed the warm weather of your country. I love the pronunciation when Vietnamese fans call my name.

I wish to come back to your country when I have free time, and most importantly, that I can come only as a tourist.
 
So you will have another trip to Vietnam in the coming future? What do you plan to do on that trip?
 
I'm quite busy now so I do not have any ideas or any itinerary for that trip. But if I have any vacation time, I will have it here in Vietnam. I'm so excited to explore your country, your culture, sightseeing, food and most of all your people. To me, the most important thing to me is the fans and I love to meet all of them. That's why I wish to meet my Vietnamese fans again.
 
Coming to Vietnam to promote South Korean culture, have you ever thought of a joint film project between Vietnam and South Korea and accept a role?
 
It would be a pleasure to participate in such a project. If any project like that comes to me, I will seriously think of it. I'm so surprised that you love my TV series 'The book of three Han' and that would be a huge motivation for me to keep doing my best in the entertainment industry.

Let's talk about your popular 'The legend of three Han'. What is your most unforgettable experience from the series?
 
This is the series that I had to put a lot of effort in. I never tried martial arts before, so when the film project came to me, I was quite embarrassed (blushing). But that was fine. The more you try, the more you know, that's what I believe.
 
But, the most unforgettable memory for me is that it took me a long, long time after the film series to forget about the emotional character 'Princess So Seo Noh'. Well, as you know, when you play a character for a long period, probably some attitudes of this character will remain with you for a long period. However, it was not really good for me, the character, So Seo Noh, was so emotional and cried a lot, and that attitude somehow still remains in me.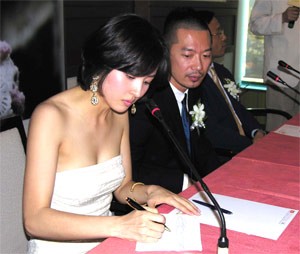 Hye Jin signs an autograph for a fan (Photo: Truong Son)

What about your latest film project?


 
My latest role is a wine producer in 'Terroir'. This was screened in South Korea recently and very soon will be on screen in Vietnam. I hope that all of you will love this character as much as the character So Seo Noh. But most of all, please keep supporting me in the coming future (laughing).
 
Would you like to share a little bit of your plans for 2009?
 
I have yet to think about other jobs besides acting. Maybe I will, but not now. I will focus on acting and the film industry. I'm waiting for some work with good scripts in the Year of Ox.
 
Recently there have been a series of suicides by various Korean artistes. What do you think about these incidents?
 
If you wish to be a celebrity, you must accept various pressures from that status. Well, as a celebrity, you will receive a lot of love, encouragement but will also have to face some bad rumors, envy and other kinds of pressures.
 
About the recent trend that our celebrities in the entertainment industry chose death to escape the pressure, I feel so sorry about them and also about our country. And I'm much worried about this trend since I also work in this field, too.
 
However, I'm still optimistic about my life thanks to all the love and support from my fans. That's the motivation for me to go on and chose a better way with optimistic thinking to run my life.
 
From the bottom of my heart, I want to wish that there will be no more deaths of any celebrities in our country

Do you have any messages you want to send to our people, especially your fans?

Oh yes, of course (smiling). I hope that your people will love our country, our culture and our people more and more. I wish all the best of life would come to all of you. God bless you.