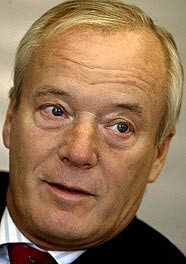 Mr. Lars Thunell
Mr. Lars Thunell, Executive Vice President of the International Finance Corporation of the World Bank, will visit Viet Nam on August 14-17, 2006 to consult with senior government officials on ways to improve the investment environment for the private sector in Viet Nam.
IFC, the private sector arm of the World Bank, said the visit is his first since assuming his position at the beginning of this year. He is due to be in Ha Noi and Ho Chi Minh City. 
IFC said he will discuss how IFC could help support Viet Nam as it integrates fully into the global economy. He will also be meeting with representatives of local and foreign private businesses, including IFC clients, to hear their views on how IFC can continue to enhance its role in the development of the private economic sector in the country.
Related link
IFC