The International Finance Corporation (IFC), the World Bank's private arm, expects to at least double its investment in Viet Nam over the next three years to support the country's development, said IFC executive vice president Lars Thunell on Tuesday.
Mr. Thunell, who arrived in Viet Nam Monday and is visiting until Thursday, made the statement during his meeting with Mr. Le Hoang Quan, mayor of Ho Chi Minh City, Viet Nam's largest economic hub.
With the visit, his first to Viet Nam since assuming IFC presidency early this year, Mr. Thunell is seeking ways to improve the investment environment for Viet Nam's private sector.
"Our city's 1% GDP growth makes up 0.2% GDP growth of Viet Nam, so your support for the city is also support for the country," said Mr. Quan.
The IFC senior executive said Viet Nam has more development opportunities than ever as it joins the World Trade Organization. He said that the World Bank's private sector arm is aware of this and asked Mr. Quan what particular areas Ho Chi Minh City needs IFC support in.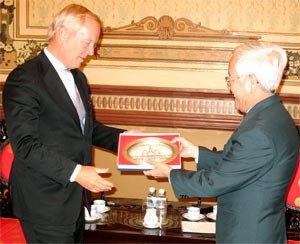 Ho Chi Minh City mayor Le Hoang Quan (R) hands a souvenir to Mr. Thunell. (Photo: Tuong Thuy)
The city leader said there are many such areas in the quickly growing city but that support in master planning, improving environmental protection and urban transport are the most important.

Mr. Thunell, whose Viet Nam-visit-entourage includes World Bank country director Klaus Rohland and IFC country manager for Indochina Sin Foong Wong, will continue discussing how IFC can help support Viet Nam as it integrates fully into the global economy throughout the rest of the trip. He met with IFC clients in Ho Chi Minh City on Tuesday and will fly to Ha Noi Wednesday.
On Wednesday, he will meet with Planning and Investment Minister Vo Hong Phuc, and State Bank of Viet Nam Governor Le Duc Thuy. On the final day, he will visit IFC-backed projects in Bac Ninh Province near Ha Noi, then meet with Prime Minister Nguyen Tan Dung and Ministry of Finance representatives.
IFC country manager Wong has also said that Viet Nam has been a target for IFC investment for almost 15 years and his corporation sees potential for better economic growth and prosperity. But he added that there are big challenges ahead.
Mr. Wong said IFC priorities for Viet Nam include investment and technical assistance in sectors where demand is growing, or where the country has a comparative advantage, such as labor-intensive manufacturing, agriculture, tourism, and information technology.
According to him, IFC has provided nearly US$500 million to finance more than 25 companies in Viet Nam. To support small-sized private companies, the World Bank arm has invested in banks and investment funds. It is a shareholder in Viet Nam's two largest private commercial banks – Sacombank and Asia Commercial Bank – both based in Ho Chi Minh City.
The Mekong Private Sector Development Facility (MPDF), IFC's multi-donor-funded technical assistance initiative, has been working in Viet Nam, Cambodia, and Laos since 1997 to reduce poverty through sustainable private sector development.
Related article
IFC Chief to Visit Viet Nam