The People's Committee in Phu Cat District said on Friday that titanium ore mining was concentrated along the coastal communes like Cat Thanh, Cat Khanh and Cat Hai.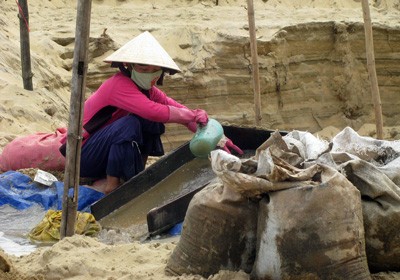 Illegal titanium ore mining in Cat Thanh Commune, Phu Cat District, Binh Dinh Province (Photo: SGGP)
Each day around 400-500 people flock to the mining site run by Binh Dinh Minerals Joint Stock Company in Cat Thanh Commune to dig for titanium ore.
One kilogram of ore fetches VND700-1,000, providing about VND200,000-250,000 to each digger per day.
The People's Committee of Cat Thanh Commune said that titanium ore mining began in 2007 and has flourished over the last two years.
Although provincial and commune authorities have made great efforts to stop illegal exploiting of titanium ore, it has been hard to control as the diggers keep returning back.