Even after the Department of Preventive Medicine in Ho Chi Minh City has issued warnings against the return of H5N1 flu virus in the country, sale of unhygienically bred chicken and pork was still prevalent in the city markets.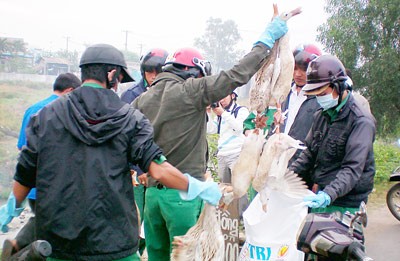 Officials seize chickens being sold illegally along a street in Binh Chanh District on February 4 (Photo: SGGP)
According to the Department of Animal Health, the city currently has at least 200 places that are illegally trading in live chicken and pork, most of these belonging to small-time traders.
Illegal sale of chickens was most prevalent in Districts 5, 12, Go Vap and Binh Chanh.

Inspectors checking on markets on February 4 found scores of chickens tied or in cages ready for sale to customers along Tran Chanh Chieu Street in District 5, Cau Market in District 12 and Vinh Loc B Market of Binh Chanh District. For an extra payment of VND10,000-20,000, the chickens could also be slaughtered on the spot.
Most consumers are workers from industrial and export processing zones. Inspectors found tens of areas selling live chicken and pork along a highway near Tan Tao Industrial Zone in Binh Tan District on the same afternoon of February 4.
Le Thi Nam from the neighboring province of Long An said that she had slaughtered ducks at home and transported them to the above area for sale for over one year. However, her business has recently met with difficulty due to tighter inspections by district authorities.
The Animal Health Department said that illegal sale and slaughter of chicken and pigs is most rampant in Binh Chanh District.
Currently HCMC has only four animal quarantine centres in Thu Duc, An Lac, Hoc Mon and Xuan Hiep. Authorities are working to deter illegal chicken and poultry from being sold in HCMC. However, they have been unable to control the huge volume of illicit meat from entering the city.
 
Khuong Tran Phuc Nguyen, head of the animal health division in Binh Chanh District said that those selling meat but failing to ensure food hygiene and safety standards will be penalised.
Authorised organisations in the city handle about 200 violation cases a week but most of the sellers resume their business after being fined.
According to the city Department of Market Management, the number of violation cases in January this year have increased compared to last December.
Lack of human resources to investigate is one of the reasons for lack of control. Besides, local authorities have not strictly handled violators to prevent them from continuing to break regulations on food safety and hygiene.
 
Phan Xuan Thao, head of the Animal Health Department said that his organisation alone cannot deal with the issue without assistance from other relevant departments, including the police and market management forces.