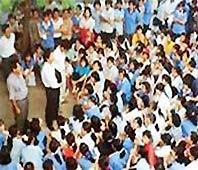 A strike in southern Viet Nam recently
To solve labor dispute between employers and employees, employers need to build a dialog channel with employees, said an International Labor Organization (ILO) official on April 4, 2006.
Ms. Johanna Walgrave, director of the Social Dialog, Labor Law and Labor Administration Department, ILO, was speaking at a national workshop in Ho Chi Minh City about the role of labor relation amid Viet Nam's efforts to join the World Trade Organization.
Effective dialogs between the two sides can prevent strikes, she said, adding that strikes are among challenges faced by companies in Viet Nam in globalization.
ILO was one of the organizers of the workshop.