Vietnamese immigrants in foreign countries still nurture their second generation off springs with Vietnamese values in the hope of retaining the cultures of both nations.
Vu Thu Huong, a 42 year old woman living in Berlin with her husband and two sons says she explains the meaning of Tet (lunar New Year) to her children every year.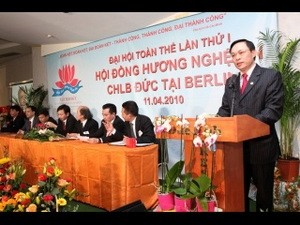 Vietnamese gather on Tet occasion in Germany (Photo: VNA)
She teaches her sons to accept the culture of Germany but still maintain and follow the traditions and family customs of their home country.
Though both her sons were born in Germany, during Tet she always practices the ritual of offering a dish of fruits, banh chung (a stuffed sticky rice cake) and peach flowers on the altar to remember their forefathers.
Huong's family is part of a large Vietnamese community of around 100,000 people in Germany. Her family has imbibed German values and lifestyle but still practice Vietnamese traditional customs in the hope that her two children will continue to nurture the culture of their roots.
She feels happy when she sees her eldest son, Mai Vu Son Ha, who is now 19 years old, paying attention to family values and respecting elders. He has just entered university and speaks Vietnamese fluently but insists that he is better at German.  He hopes to work in a bank in the future.
As a young girl in Hanoi, Huong quit her job as a teacher when she met her husband. They decided to move to an unfamiliar foreign country, but even though it was very difficult to earn a living at that time, they gradually were able to overcome all barriers.
Meanwhile, Ms. Trang Ly is bringing up her three children sans a husband. She lives with her kids in a small coffee shop in Prenzlauer Berg – Berlin. She is a charming and pretty woman who has succeeded in her business of selling coffee and flowers. Her shop was also publicized in a magazine about life in Germany. She claims that her main source of joy remains her three children.
Living for the next generation seems to be the general characteristic of the first generation of immigrants to Germany. They work hard and care little about their own selves. The Vietnamese community has successfully integrated with positive results to prove that.
It came as a big surprise when Philipp Roesler, 36, who was born in Vietnam, became Germany's first Asian-born cabinet minister of health in October 2009. Philipp was adopted by a German couple when he was still an infant.
As per German custom, children at the age of 18 can take their own decisions but Vietnamese parents want to interfere in all decisions made by their kids, especially when it comes to choosing their careers. This remains a cause of great friction between the generations.