Local and foreign economic experts predict Vietnam's economy will see stronger recovery in the second quarter of the year based on improvements in industrial output, exports and services in April.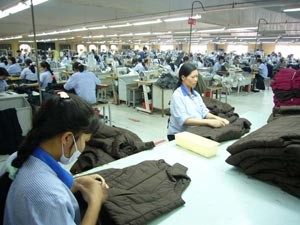 Apparel remains an important factor for the Vietnamese economy
The National Centre for Information and Socio-Economic Forecast under the Ministry of Planning and Investment estimates the country's GDP growth rate in the second quarter at 3.5-3.8 percent, a 0.4-0.7 percent increase compared to the first quarter's figure.
The annual growth rate this year is forecast to be between 4.5-5 percent.
The forecast also takes into account recent reports that said the world financial crisis has shown signs of abating.
Though exports in the first quarter failed to meet the year's target, the sector has gained speed since February, which experts said was an achievement compared to other regional countries, driven partly by rice sales.
So far this year, the country has signed contracts to export 3.7 million tons of rice of the total 4.5-5 million tons scheduled for the whole year.
April's consumer price index rose 0.35 percent against the previous month, signally an end to deflation and a revival of consumption demand.
While optimistic about the second quarter's prospects, the centre still calls for stronger measures to cope with the adverse impacts of the global economic recession.