A raging inferno engulfed the Lotte Centre skyscraper construction site on Dao Tan Street in Ba Dinh District in Hanoi on Friday, causing utter traffic chaos along Lieu Giai and Dao Tan Streets.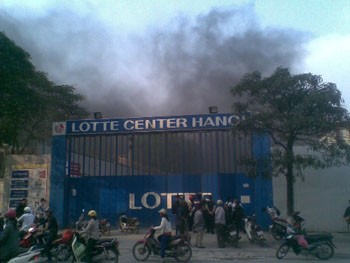 Scene of inferno at Lotte Centre construction site in Hanoi on February 24 (Source: Tienphong)
Even as the fire spread uncontrollably, the gates of the construction site remained closed, barring civil defense forces from Ngoc Khanh Ward from assisting.
Security personnel at the site were more focused in playing down the incident, by even announcing via loudspeaker that people present at the scene must not take photographs or film the scene, or else their cell phones or any such device would be confiscated.
Half an hour after the blaze started, fire fighters were able to stamp out the fire and evacuate workers from the site. No human casualties were reported, but material damage has still to be assessed.
According to initial information, the fire was caused by some negligent welders working close to highly inflammable material in the basement of the construction site.