The City People's Committee of Hanoi will approve the proposal to take the injured turtle from the Sword Lake to the Turtle Tower in the middle of the lake, to treat his wounds, said the committee vice chairman Nguyen Van Khoi.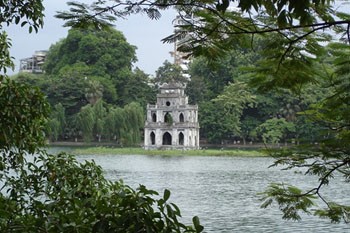 Injured turtle to be treated at the Turtle Tower
The Hanoi administration has instructed the Department of Construction to remove all obstacles from the lake by February 25, to allow for cleaning up of the lake, Mr.Khoi said.
The committee, the Department of Natural Resources and Environment and the Hoan Kiem District People's Committee are working on specific plans to dredge the lake and improve the quality of the lake water.
Earlier, on February 15, the Department of Science and Technology had in a seminar suggested a proposal made by several scientists of treating an injured turtle in a plastic water tank, while others had proposed to take the turtles to the Turtle Tower in the middle of the lake for treatment.
Related articles:
Seminar on methods to cure turtle wounds
Wound treatment of legendary turtle to be found out before Feb 25