Vietnam's Ministry of Planning and Investment and the World Bank here launched Monday the Vietnam Innovation Day 2011 with the theme "Innovation for Social Equity and Sustainable Growth".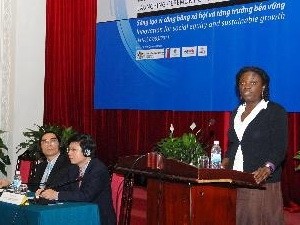 Ms. Victoria Kwakwa, WB director in Vietnam, speaks at the launch ceremony in Hanoi (Photo: Vietnam News Agency)
VID 2011 identifies and provides seed-funding for small and innovative development proposals that exhibit high potential of the community, especially of micro and small and medium size enterprises, social entrepreneurs to bring benefits to the poor and under-served communities, to bridge the economic and social disparities and contribute to the country's sustainable development and quality of growth in Vietnam.
The program has two major parts – Innovation Competition and Knowledge Exchange.
The first is an open competition, juried process that awards start-up funds for implementation to enterprises and organizations who proposed the most innovative ideas addressing development issues within this year's theme.
The second part includes knowledge exchange and open discussions on "Innovation for Social Equity and Sustainable Growth".
The three sub-themes are energy efficiency, traditional herbal medicine, and agriculture based products and services.
This year's program award size has increased to a maximum VND 600,000,000 per award for implementation (equivalent to USD 30,000 double the maximum number in previous year). This aims at providing maximum support and optimizing development impacts of the winning initiatives within the above mentioned theme. It is expected that at least 10 prizes will be awarded.
Potential candidates are encouraged to submit proposals to the Organizing Committee from now until 5:00 pm May 5th 2011. After the Launching Ceremony, four Introductory Workshops will be organized in different provinces from March 17th to March 23rd, 2011.
VID 2011, which is organized under the partnership of the Ministry of Planning and Investment and the World Bank, is an opportunity to bring to life innovative ideas that address local development challenges.

Its co-sponsors to date are Australian Agency for International Development, Department for International Development (U.K.), the Royal Embassy of Denmark, the Embassy of Finland and U.S. Agency for International Development.