Through 2,000 administrative inspections and 74,578 other inspections in the third quarter  Government inspectors detected hundreds of corruption cases and violations of law, worth VND42,600 billion (US$ 1,908,174,692), said inspectors at a press brief in Hanoi on October 27.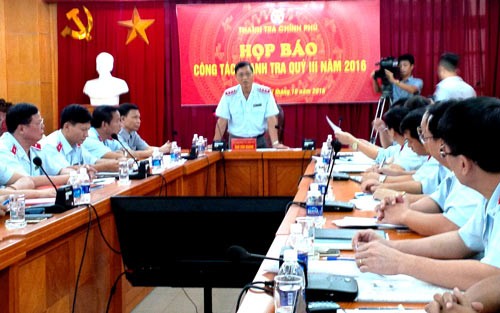 At the press brief (Photo: SGGP)
Deputy chief of the Government Inspectorate Ngo Van Khanh said that inspectors issued fines to violators as well as suggested administrative punishment to 346 individuals and teams, transferred document to police investigators for 16 cases and 30 people. Inspectors also uncovered violations in giant  economic groups
Inspectors collected VND12,462 billion from violations in bank sector.  The amount is excluded VND56,882 billion collected by inspectors for violations of loans and debts. Worse, government inspectors also handled complaints concerning to corruption and detected 14 cases with 24  individuals involved in corruption and transferred to police investigators.
Deputy chief Khanh said at the press brief that government inspectors paid visits to all sector including the Ministry of Industry and Trade and people's committees in cities and provinces. Moreover, inspectors liaised with People's Supreme Procuratorate and the Ministry of Public Security about criminal violations.