Sixty low-income farming families in the northern province of Hung Yen received Tuesday 60 interest-free loans totaling VND700 million under a program designed to support poor farmers.
Representatives of animal feed manufacturer GreenFeed Vietnam, the program's financing organization, Tuoi Tre Newspaper and the provincial Farmers' Association handed the loans to the farmers, who come from An Thi and Kim Dong districts.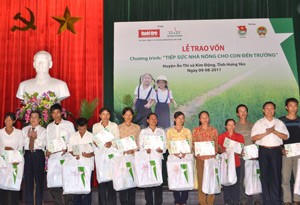 Farmers and their children receive loans and funding in Hung Yen Province on August 9, 2011
Each household received VND10 million (almost US$500) in cash and GreenFeed animal feed. The free-interest loans are for two years, until August 2013.
During the two years, GreenFeed Vietnam also supports the farmers by giving advice of livestock techniques and skills.
The company, based in the southern province of Long An, presented 56 awards worth VND500,000 each to 56 children from the families who have achieved good schooling results on the same day.
In addition, Tuoi Tre Newspaper gave VND5 million to farmer Bui Kim Dinh from An Thi District, a widower who brings up his children.
GreenFeed has also planned scholarships up to VND3 million each for children in the program who achieve good academic records during the two years.
Since late last year, the farmer supporting program has presented VND700 million to 60 farming families in Long An, and another VND700 million to 60 farming households in the central province of Binh Dinh. All the farmers also receive advice of livestock techniques and skills from GreenFeed.