Activities to raise funds for people with disabilities were held across Vietnam yesterday to mark the International Day for People with Disabilities on December 3.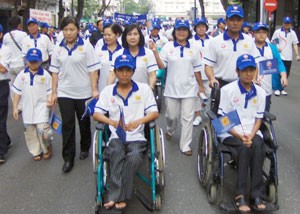 Deputy Chairwoman joins the walk to raise funds for 1,000 surgery cases for children with disabilities in remote areas nationwide
Ho Chi Minh City People's Committee Deputy Chair woman Nguyen Thi Thu Ha joined 2,000 others, including university students, members of HCM City Disabled Youth Association, public servants and employees of organizations and enterprises, in a walk to raise funds for the "1,000 Surgery Cases for Children with Disabilities in Remote Areas Nationwide".

The walk, organized by The HCM City Association for Supporting Children with Disabilities, raised nearly VND2 billion (US$117,994) for the program.

On the same day in Ha Noi, the National Coordinating Committee on Disability of Vietnam (NCCD) and the Hanoi Association of People with Disabilities organized a job fair with more than 30 enterprises offering jobs to disabled people.

Some 2,000 Hanoi residents with disabilities attended the fair, with many of them finding employment.

The fair also showcased many products made by and services offered by handicapped people.

Thirty-one disabled people in Hanoi received computers through the "10,000 computers for people disabilities" program jointly organized by the Ministry of Labor, War Invalids and Social Welfare and the Information Technology Application Department of the Ministry of Information and Communications.

The Vietnam Association for the Support of the Disabled and the Vietnam Chamber of Commerce and Industry launched the http://www.brec.nhanai.vn website to provide information on job markets and job opportunities for disabled people.

The website is funded by the United States Agency for International Development (USAID).