Viet Nam has received a total of VND$45.8 billion (US$2.86 million) of relief aid raised by the world's Red Cross societies to support areas afflicted by floods over the past two months.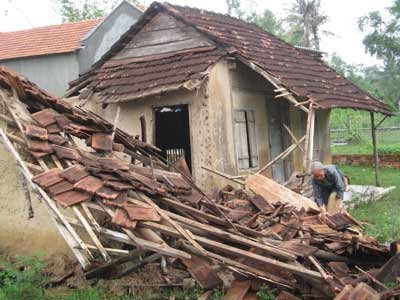 The storm damages a house in the central province of Quang Ngai
The announcement was made at a Monday meeting between the International Federation of Red Cross and Red Crescent Societies and the Viet Nam Red Cross.

The Red Cross societies of France and Spain joined hands with their Vietnamese counterparts to deliver around VND45.8 billion (US$2.86 million) in aid to 118,000 victims of recent floods in northern and central Viet Nam.

As part of a Euro-2-million humanitarian program funded by the European Commission (EC) through its Humanitarian Aid department (ECHO), the program will run until May 2008, said Viet Nam Red Cross President Tan Ngoc Tang.

The Viet Nam Red Cross and its counterparts are to implement emergency aid projects to restore damaged houses, distribute some 5,820 tons of rice and 30,600 boxes of household utensils, as well as build new 1,000 houses.
In late September this year, typhoon Lekima and its consequent floods claimed 155 lives and caused estimated losses of more than VND4.4 trillion (US$277 million).