Issues related to the three border gates between Vietnam and China will be resolved in a fair and reasonable way, said Vietnam's Deputy Foreign Minister Vu Dung.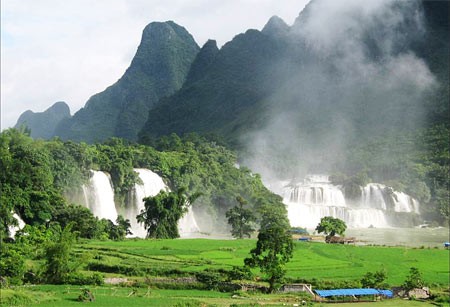 Ban Gioc Falls on the Vietnam side, located in Dam Thuy commune, Trung Khanh district, Cao Bang province
During the interview with local and international reporters on February 24, Dung was speaking about the result of the Vietnam - China negotiations relating to three border gates: Huu Nghi, Ban Gioc Falls, and Bac Luan River Mouth.
Dung, who is also the head of Vietnam's delegation for border and territory issues, said, "Issues related to the three border gates have been discussed through many negotiation rounds of the Vietnam - China joint committee for land border demarcation but have yet to be resolved. In early 2008, the two sides agreed to resolve the problem by a 'package' solution, which is based on the content and map indicated in the Vietnam - China land border treaty signed in 1999.
"The solution will be carried out using the following criteria: fairness, reason, mutual acceptance, respect for historical relics, and ensuring stability for the life of people living in the border area," he said.
The Huu Nghi border gate is located in Lang Son Province, and the Bac Luan river mouth situated in Mong Cai town, Quang Ninh province 
Meanwhile, the Ban Gioc Falls lie on the banks of the Quay Son River, which is shared by Vietnam and China. The portion of the river that belongs to the Vietnam is located in Trung Khanh district, Cao Bang province.
Vietnam and China agreed that they would discuss cooperation in exploiting the potential in tourism of the Ban Gioc Falls, Dung said.
As for the mouth of the Bac Luan River, the two sides agreed that they would not develop works there and would set up a border-free travel zone for residents of both countries who live in the area, he said.