Italian enterprises consider Vietnam as an important gateway to potential Southeast Asian markets, said Deputy Foreign Minister Banedetto Della Vendora at a conference in Rome on March 27.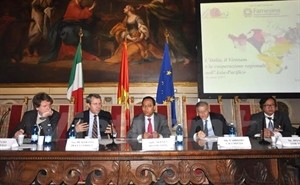 Scene at the conference (Source: VNA)
He said the Italian Government is increasingly interested in comprehensive cooperation with Asia-Pacific, particularly Southeast Asia, and lauded the ties with Vietnam, a regional fast-growing country.
At the conference, themed "Italy, Vietnam and Asia-Pacific cooperation", he said his country and the European Union were concerned about maritime issues in Southeast Asia, hoping to make more contributions to its overall security.
Agreeing with the diplomat's wish, Paul Berg from the US Embassy in Rome said he support the diplomatic efforts of Vietnam and the Association of Southeast Asian Nations (ASEAN) in building a pacific community.
A presentation from Hoang Anh Tuan, Head of the Institute for Strategic Studies and Foreign Policy under the Vietnamese Ministry of Foreign Affairs, was well received at the conference.
His work analysed in depth the development of ASEAN and the establishment of the ASEAN Economic Community this year and affirmed that Asia- Pacific is emerging as the world's top dynamic economy.
Tuan delivered hopes that Italy, as a strategic partner of Vietnam, will do more in keeping security in Asia-Pacific.