Vietnam has drawn more than US$5.3 billion in foreign direct investment (FDI) in the first two months of the year, equal to 70% of the figure in the same period last year, according to the Ministry of Planning and Investment.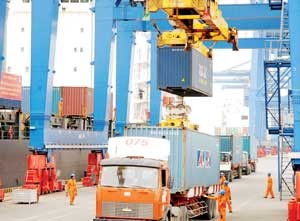 Export items loaded for shipment at Cat Lai Port in Ho Chi Minh City (Photo: SGGP)
So far this year, 68 FDI projects have been licensed with total registered capital of more than US$1.5 billion, the ministry said.
These results represent just 35 percent and 31 percent of the number of projects and total capital, respectively, recorded in the same period last year.
In January and February, more than US$3.8 billion was added to 10 existing projects, an increase of 41 percent.
The ministry's Department of Foreign Investment mentioned current global economic recession as a reason behind this FDI reduction.
The global financial crisis and economic downturn have had serious impacts on the amount of FDI attraction in Vietnam. Hanoi, for example, licensed 30 projects with total capital of US$40 million in the first two months of the year, or just 7 percent of the figure recorded in the year-earlier period. Da Nang City, a central hub, has licensed only one FDI project in the past two months.
Foreign-invested enterprises saw their export value fall by 0.7 percent and their import spending drop by 2.8 percent.