Japan and the five Mekong countries, including Vietnam, have identified several priority projects under a cooperation initiative agreed to last year for economic development of the sub-region, Kyodo reported Thursday.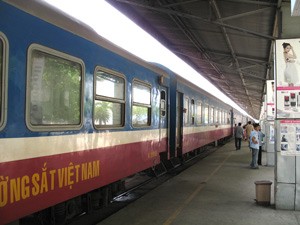 A North-South train at the Saigon Railway Station in Ho Chi Minh City. Railway is among priority areas for development cooperation among Japan and the five Mekong River Basin countries. (Photo: Minh Tuong)
The Japanese news agency said the priority areas recommended by Japan's private sector and the five Mekong River basin countries – Thailand, Vietnam, Cambodia, Laos and Myanmar – range from the construction of deep-water seaports, railways and roads to the development of a power grid linking all five countries and the export of Japanese clean-energy technology, including nuclear power, to the region.
Kyodo said the private sector's recommendations were made at the first dialogue meeting between the five countries and the Japanese government and private sector in May, attended by some 80 Japanese companies and major firms from the Mekong countries, which have been selected to advise the two sides on infrastructure development.
They included about 30 Japanese firms and agencies, including Honda Motor Co., Hitachi Ltd., Itochu Corp., Mitsui & Co., Electric Power Develop Co., the Japan Business Federation (Nippon Keidanren) and the Japanese Chamber of Commerce and Industry.
The two sides are now working on action plans for the Mekong-Japan Economic and Industrial Cooperation Initiative, a framework agreed on at the first Japan-Mekong summit last November.
The private sector's recommendations are expected to be taken into account at the next meeting of the economic ministers in Danang, Vietnam, next month.
Kyodo said the framework initiative would help Japan export its expertise in infrastructure development to the Mekong sub-region while opening business opportunities for Japanese companies. It is also expected to give a big boost to the region's economic development.