The Japanese Government is planning to resume its flow of official development assistance (ODA) into Vietnam, Japan's JIJI Press News quoted the Ministry of Foreign Affairs on February 3.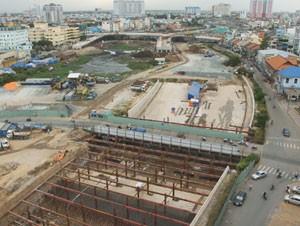 The construction of East-West Highway which is one of the Japanese ODA projects in Ho Chi Minh City
The Japanese news website reported that Japan is to resume the granting of loans in its national currency (Yen) to Vietnam, thanks to new measures to combat corruption being agreed upon by the two countries.
Accordingly, to effectively combat corruption, Vietnam will establish a third agency to oversee the implementation of Japanese ODA projects in the country.
ODA-related corruption has recently been in the spotlight in Vietnam and Japan, following a graft scandal within a Japanese ODA project in Vietnam last August.