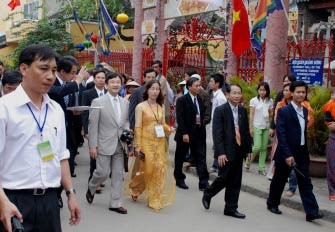 Japanese Crown Prince Naruhito (in grey) visited Hoi An on February 11
Japanese Crown Prince Naruhito, who is on a visit to Vietnam, arrived in Da Nang February 11.
He was received at the Furama Hotel by city authorities.
He then arrived in Hoi An in neighboring Quang Nam Province, where he visited Cau Pagoda, which is seen as a symbol of cultural ties between Vietnam and Japan.
He also visited the Museum of Trading Ceramics and Phuc Kien Club-house in the town.
The Crown Prince left Hoi An for Thua Thua-Hue Province later the same day.