A delegation of Japanese senators on Monday scouted the site where the Can Tho Bridge's two spans collapsed in southern Viet Nam. The senators offered ¥100,000 (US$905) to the local Fatherland Front Committee to assist victims there.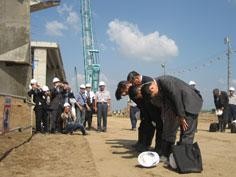 Japanese senators lower their heads in remembrance of victims who died in the Can Tho bridge collapse during their inspection tour to the site December 3
Before working with Japanese contractors, the delegation burned incense and offered flowers in remembrance of the 54 victims who died last September in Can Tho City.
Senator Kenzou Fujisue conveyed his condolences to victims' families and wished the injured quick recoveries.

Kenzou said the most important thing to do now is to discover the causes of the accident to avoid any repetition in future. On the other hand, construction should be resumed on the bridge as the work benefits both Viet Nam and Japan, he added.

Following the tour, the five senators, led by Senator Kenzou Fujisue, had a working session with Can Tho city's authorities.

Senator Fujisue affirmed the Japanese side will collaborate closely with the Vietnamese government to quickly determine the cause of the tragedy.

He told Can Tho city leaders he will report back to the Japanese parliament about the results of their working, results he expected would help boost ODA to Viet Nam and further assist the victims' families.

On the occasion, the senators offered ¥100,000 (some US$905, VND14.7 mln) collected by the Japanese Senate to the Fatherland Front Committee of Can Tho to assist victims there.

The same day, Sai Gon Giai Phong talked with the director of a military hospital in Can Tho and was told there is only one victim of the collapse now being treated at the hospital.