The Japan Special Fund, through the Asian Development Bank (ADB), will provide a US$1 million grant to help Viet Nam improve its water management and modernize its irrigation systems, the bank announced August 29.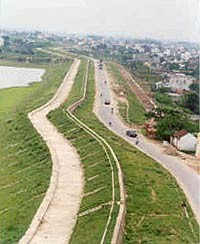 A dyke in northern Viet Nam
The grant will help design a project to upgrade the quality of water-related public services and improve the management of Viet Nam's water resources used for irrigation, according to ADB. For its part, Viet Nam will contribute staff, facilities and services equivalent to US$250,000.
"The technical assistance will help Viet Nam increase the number of qualified water engineers, help the country better manage its irrigation systems, boost agricultural production, and increase farmers' income," Dennis Ellingson, senior natural resources management specialist of ADB in Viet Nam, said in a statement.
The technical assistance will provide detailed design for three components. The first component will support the upgrading of professional training facilities for water resource specialists at the Water Resources University.
The second component will focus on modernizing the management of Bac Hung Hai, one of the oldest and largest irrigation and drainage systems in the country. It covers 192,045 hectares and serves 2.7 million people in Ha Noi, Bac Ninh, Hung Yen and Hai Duong provinces in the north (thus the name Bac Hung Hai).
The third component will be the design of new infrastructure and upgrade of existing irrigation and drainage facilities of Bac Hung Hai.
Mr. Ellingson added that future implementation of the water management project could cost an estimated US$140 million.