Japan's Crown Prince Naruhito was in Vietnam Tuesday for a week-long visit, which marks the 35th anniversary of the establishment of diplomatic ties between the two countries.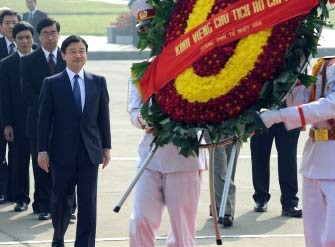 Crown Prince Naruhito (4th L) prepares to lay a wreath at the mausoleum of late President Ho Chi Minh in Hanoi on Feb. 10 (Photo: AFP)
His wife Crown Princess Masako did not accompany him on the trip, remaining at home for health reasons.
Crown Prince Naruhito met with Vietnam's Vice State President Nguyen Thi Doan in Hanoi Tuesday morning and conveyed Masako's greetings. He is due to meet Vietnamese President Nguyen Minh Triet later Tuesday.
"Masako could not come as her health was not good... She was sorry... and would like to say hello to you all," he said through an interpreter.
Japan is the largest foreign donor to Vietnam but had earlier suspended aid to the country after a bribery case that last month saw a Japanese court convict a consultancy and three of its executives. However, Prime Minister Nguyen Tan Dung and Vietnam-Japan's Special Ambassador Sugi Ryotaro met in Hanoi on Feb. 9 to discuss the resumption of Japan's provision of ODA to Vietnam, which could be reinstated as early as April. Mr. Ryotaro said that the Japanese Government hopes to resume the aid in April and pledged to do his best to contribute to the resumption.
Crown Prince Naruhito will leave for central Vietnam Wednesday to visit Hoi An, a UNESCO world heritage site with Japanese architectural influences, and Hue, the site of the former imperial place.
On Thursday he will head to Ho Chi Minh City, Vietnam's southern business capital.
Crown Princess Masako has skipped most public duties since late 2003, when she fell ill as she struggled to adjust to the tradition-bound palace life under pressure to produce a male heir.