Budget carrier Jetstar Pacific cancelled a flight from Da Nang to Ho Chi Minh City February 1 due to technical problems six hours after announcing a delay.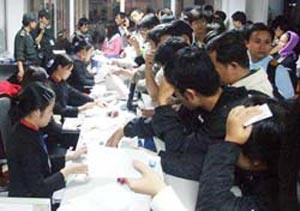 Passengers crowd Jetstar Pacific's check-in counters at Da Nang airport for refunds February 1 after their flight to HCMC was cancelled due to technical problems (Photo: SGGP)
BL8597 had been scheduled to leave at 1.20pm. 
Some of the 168 passengers who had booked to fly on it were indignant and slapped check-in counters and even knocked over some desks at Da Nang airport.  
Tran Hoang Linh, the airlines' branch manager in the central city, said: "All we care about is the safety of the passengers. We cannot allow the plane take off when we are not sure about the flight's safety. We refunded the fare and paid VND200,000 in compensation to the passengers."  
Flight BL8599, scheduled to leave Da Nang for HCMC at 9pm the same day, was delayed until 4am the next morning.