Prime Minister Nguyen Tan Dung on Wednesday toured Ba Ria-Vung Tau Province, which was worst hit by Typhoon Durian to inspect work being done to overcome the aftermath.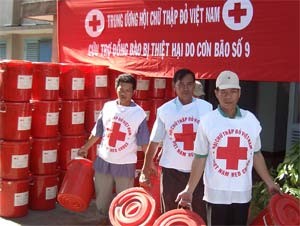 Red Cross workers bring emergency supplies to typhoon victims. (Photo: SGGP)
The Government leader delayed his previously scheduled official visit to Malaysia and Singapore on Wednesday.
In the southern coastal province, Mr. Dung said the government would provide VND5 million to each family whose house was destroyed and VND2 million for each family with their house roof blown off. Those families with members killed by the typhoon will get VND3 million of emergency aid, while emergency supplies will be sent to affected people.
The PM asked the provincial authorities to promptly repair roads, the power network, telecoms lines, water and drainage systems, schools, clinics and other facilities. The provincial officials were asked to assure social order.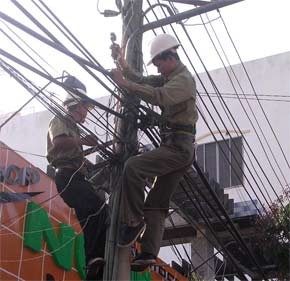 Power lines are reconnected (Photo: SGGP)
Mr. Dung extended deep condolences to families having members killed or injured by the typhoon and required the provincial authorities to mobilize all forces to search for the 24 missing fishermen and provide shelter and food to those who have lost homes.
On the same day, Vice President Truong My Hoa toured Ben Tre Province, which was also seriously hit by the typhoon, to inspect what are being done to overcome consequences. 
Meanwhile, Ho Chi Minh City chairman Le Hoang Quan instructed State agencies and officials here to try their best to help Can Gio District's residents deal with the typhoon aftermath.
He said top priority should be given to activities in overcoming the aftermath to ensure the availability of food relief and medical treatment for the victims.
He asked relevant agencies to work out emergency support plans to help the victims rebuild their houses, and to control the prices of building materials as it is feared that sellers may take the chance to push up the prices.
The Department of Education and Training was required to inspect the conditions of the schools in the coastal district to ensure safety for pupils and students when they resume schooling.
The city chairman asked agencies to draw storm protection lessons. The city's flood and storm protection committee was assigned to work out action plans to join efforts by different agencies and forces in overcoming the consequences.
The city's Fatherland Front Committee has VND3 billion (about US$187,500) available in hand to send to Can Gio as emergency aid.
 
According to the country's flood and storm protection committee, by 9 am on Wednesday, at least 54 people died and 57 others were missing in typhoon Durian. Ba Ria-Vung Tau has 34 dead and 24 missing people; Ben Tre 17 dead and one missing; Binh Thuan 2 dead; Can Gio District 5 missing; Tien Giang 24 missing; and Vinh Long 1 dead and 3 missing.