Delegates at the July 21 meeting of the 32nd session of the National Assembly's Standing Committee in Hanoi failed to come to a consensus view on an amendment to the Ordinance on Judge and Jury at the Supreme People's Court.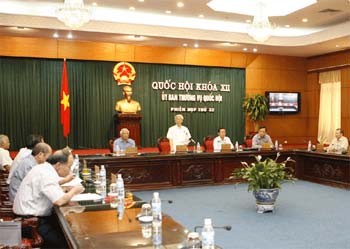 A view of the NA Standing Committee's meeting in Hanoi on July 21 (Photo: VnEconomy)
Delegates offered varying opinions about the proposed amendment that there would be four ranks of judges, who would enjoy different rates of salary and allowance.  
Of the four proposed ranks, the first is for judges of supreme people's courts, the second for advance-level judges, the third for intermediate-level judges and the last for primary judges.  
 
The Tribunal President of the Supreme People's Court, Truong Hoa Binh, had submitted the amendment to the Standing Committee.
The NA Justice Committee argued that such an amendment was not conformable to the Constitution and the Law on Organization of People's Court. It suggested that there should be three, instead of four, ranks of judges, including judges for supreme people's courts, supreme people's appeal courts, and central military courts; intermediate level judges for provincial-level courts, and judges of primary level for district-level courts.
Le Thi Thu Ba, chairperson of the Justice Committee, also said the amendment were not as perfect as the Committee or the NA Standing Committee expected.
Meanwhile, Nguyen Van Thuan, chairman of the NA Law Committee, disagreed, saying that both the above-mentioned amendment and the Justice Committee's suggestion were inconformity with the Law on Organization of People's Court.
Tran The Vuong, chairman of the National Assembly's Ombudsmen, said the suggestion that there should be judges of intermediate and primary levels was improper and unnecessary, since under the Law on Organization of People's Court, each level of courts have judges of their own.
Due to many contradictory views about this issue, NA deputy chairman Uong Chu Luu concluded that the amendment should be reconsidered based on collecting more opinions from relevant State agencies before resubmission to the Standing Committee in its next session.