The Ministry of Justice will continue to improve the legal system with focus on the Constitution amendments in the new term, Minister Ha Hung Cuong has said.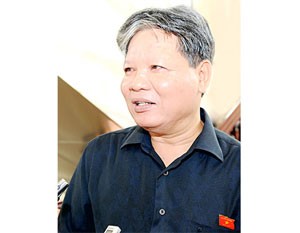 Justice Minister Ha Hung Cuong
Comrade Cuong, who has been recently re-elected for another term, said "I'm very happy as I would have chances to continue many big plans unfinished."
The minister said he wished to have more time in the coming term for macro projects rather than micro ones.
Vietnam's legal system needs to be constantly approved to suit realistic situations as well as to cope with any social and economic changes in the future, the Minister said.
A strong legal system will be a foundation to operate the country through the process of industrialization and modernization, he said.
Our target is that Vietnam would possess a rather adequate legal system at least from 2016. Any changes to the system would be only about further specifying the system, he said.
The Ministry of Justice has been selected by the National Assembly as member of the Committee for making draft amendments for the Constitution 1992, with contains the original and basic laws for Vietnam's administrative government.
Minister Cuong said he agreed with many National Assembly deputies that amendments to the regulations about governmental organization should be the priority.
Meanwhile the ministry will simplify bylaw documents to make them easier and less expensive for use, he said.
It will also build tighter connection with local authorities to implement laws on civil cases in order to improve the service and shorten the time on administrative cases.
Mr. Cuong said the ministry and judiciary agencies will continue to face a lot of challenges in their job in the coming time.
He said one of the challenges is arguments over the roles of the legislators and judicial agencies in explaining laws and setting up penalties.
The country's Constitution grants the National Assembly Standing Committee the rights to explain laws and ordnances, which in theory in reasonable, the Minister said.
However, there've been opposing opinions that the courts should be the ones to explain the application of general laws for specific situations, he said.
The opinions suggested giving the Supreme People's Court the rights to explain laws and setting up legal precedents.